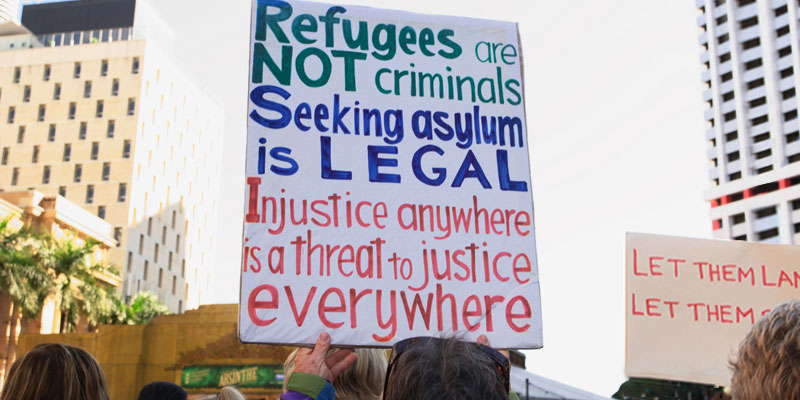 After only one week into his presidency, Trump passed an executive order to ban the travel of all immigrants from seven majority-Muslim countries, including Somalia, Iraq, Iran, Libya, Syria, Sudan, and Yemen, to the United States. The ban included people with a valid visa (e.g. student visa, tourist visa, immigrant visa), all refugees who had already undergone 2-3 years of vetting (background checks), and even lawful permanent residents (Green Card holders) of the United States. Those who arrived to the U.S. immediately after the executive order had passed were detained at airports all over the country and were denied admission. Many people were detained for over 24 hours and separated from their children. Green Card holders who were visiting family abroad or simply on vacation were suddenly unable to return home.
Lawsuits were immediately filed with the Federal Courts and the travel ban was suspended. Last week, in a 3-0 decision, the U.S. Court of Appeals for the Ninth Circuit effectively refused to reinstate the travel ban and this executive order will remain suspended unless the U.S. Supreme Court decides otherwise. However, Trump will most likely not appeal the decision to the U.S. Supreme Court. Rather, he is likely to pass a new executive order to restrict the travel of immigrants from these seven majority-Muslim countries.
In addition to his discriminatory action toward Muslim immigrants, Trump is instilling widespread fear among Hispanic immigrants through an increased number of raids at people's homes and places of employment carried out by Immigration and Customs Enforcement (ICE) officers. Huge round-ups have been reported in Southern California during a five-day sweep, as well as in other places across the U.S., such as Atlanta, Chicago, New York, Texas, and North Carolina. These raids are in response to Trump's new executive order that replaced Obama's 2014 prosecutorial discretion policy with a much harsher enforcement priority guidance. The new order identifies as an enforcement priority an individual who is unlawfully present in the United States and has been: 1) convicted of any criminal offense; 2) charged with any criminal offense, even if the charge was dismissed; 3) committed "acts" that constitute a chargeable criminal offense even if no charges were actually filed against the person; 4) subject to any final order of removal, no matter how long ago the order of removal was issued; and other harsh grounds. The order also includes the hiring of 10,000 new ICE agents and 5,000 Customs and Border Patrol (CBP) agents, and imposes penalties (restriction of federal grants) for states and localities that refuse to comply with his new order.
The Trump administration will use a number of major enforcement tactics in connection with his new executive order, such as the following:
Increasing ICE presence at jails and use of detainers;
Giving permission to police department officers to act as immigration agents;
Expanding immigration detention facilities and keeping people detained throughout their deportation proceedings to make it more difficult to fight their deportation in the Immigration Court;
Increasing the number of home raids, workplace raids, and vehicular checks to target people with final orders of removal and any criminal record.
Additionally, nationals from countries of Somalia, Iraq, Iran, Libya, Sudan, Syria, and Yemen will face more scrutiny as international students or as individuals applying for any U.S. immigration benefit, such as a Green Card.
Criminalizing immigrants and restricting the immigration of people from majority-Muslim countries is a serious racial justice issue, and we must come together during this repressive era to fight for the due process and equal protection rights of immigrants.
We urge all immigrants to know their rights by accessing our Resources Page and creating a safety plan to defend themselves against a possible ICE raid.